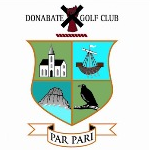 Gents Saturday Singles League
As the Final Leaderboard for the best 4 cards produced a three way tie, the Committee, in accordance with standard practice, attempted to resolve ties on the basis of the best 3, best 2 and best scores. However, as this did not resolve the tie for 1st and 2nd place, we have joint winners.
Congratulations to joint winners John Timmins and Macin Chmielewski for a battle closely fought.
| Name | Best 4 | Best 3 | Best 2 | Wk1 - 02/Dec | Wk2 Cancelled | Wk3 Cancelled | Wk4 - 23/Dec | Wk5 Cancelled | Wk6 - 06/Jan | Wk7 - 13/Jan | Wk8 - 20/Jan | Wk9 - 27/Jan | Wk10 - 03/Feb |
| --- | --- | --- | --- | --- | --- | --- | --- | --- | --- | --- | --- | --- | --- |
| 1st - John Timmins | 102 | 80 | 55 | 27 | | | 22 | | 20 | 28 | 0 | 25 | 18 |
| 1st - Marcin Chmielewski | 102 | 80 | 55 | 28 | | | 0 | | 25 | 21 | 27 | 19 | 22 |
| 3rd - John Hannon | 102 | 79 | 53 | 26 | | | 27 | | 26 | 23 | 23 | 21 | 19 |
| 4th - John McGillicuddy | 101 | 78 | 54 | 21 | | | 27 | | 24 | 27 | 0 | 23 | 21 |
| 5th - John O'Riordan | 100 | 77 | 53 | 27 | | | 22 | | 17 | 26 | 15 | 24 | 23 |
| 6th - Patrick Bernard | 99 | 76 | 53 | 25 | | | 28 | | 21 | 0 | 0 | 23 | 23 |
| 7th - Peter Ferrari | 99 | 76 | 52 | 23 | | | 26 | | 26 | 0 | 0 | 22 | 24 |
| 7th - Daragh P Kelly | 99 | 76 | 52 | 0 | | | 23 | | 24 | 26 | 23 | 23 | 26 |
| Darryll Murray | 98 | 78 | 53 | 25 | | | 28 | | 20 | 0 | 20 | 0 | 25 |
| Will Murray | 98 | 75 | 52 | 26 | | | 23 | | 20 | 0 | 22 | 26 | 23 |
| Gerard Campion | 97 | 76 | 51 | 25 | | | 0 | | 19 | 26 | 21 | 15 | 25 |
| Paddy Mulligan | 95 | 73 | 49 | 22 | | | 21 | | 25 | 24 | 17 | 19 | 24 |
| Cathal Horan | 94 | 73 | 50 | 20 | | | 23 | | 25 | 21 | 0 | 25 | 20 |
| Tom Buggle | 94 | 73 | 50 | 0 | | | 21 | | 23 | 25 | 18 | 25 | 20 |
| Brian Shanahan | 94 | 72 | 49 | 21 | | | 23 | | 26 | 22 | 23 | 20 | 16 |
| David Mulligan | 92 | 72 | 50 | 22 | | | 24 | | 0 | 0 | 20 | 26 | 0 |
| Mark Michael | 91 | 70 | 48 | 25 | | | 16 | | 23 | 22 | 19 | 21 | 0 |
| Frank Moore | 90 | 70 | 48 | 24 | | | 18 | | 0 | 24 | 17 | 22 | 20 |
| Thomas Kerr | 90 | 69 | 47 | 18 | | | 0 | | 24 | 0 | 21 | 22 | 23 |
| Brian Mullen | 88 | 68 | 48 | 19 | | | 20 | | 20 | 18 | 0 | 23 | 25 |
| John Ryan | 88 | 68 | 47 | 20 | | | 21 | | 0 | 25 | 0 | 22 | 18 |
| Shay Howard | 87 | 67 | 45 | 0 | | | 22 | | 17 | 16 | 20 | 23 | 22 |
| Gary Mulhall | 86 | 67 | 46 | 0 | | | 25 | | 21 | 0 | 0 | 19 | 21 |
| Colm Whelan | 86 | 66 | 45 | 19 | | | 19 | | 23 | 0 | 21 | 22 | 20 |
| Gerard P. Fullam | 86 | 66 | 45 | 23 | | | 20 | | 21 | 15 | 18 | 20 | 22 |
| Darren Bryan | 85 | 65 | 45 | 17 | | | 24 | | 14 | 21 | 16 | 20 | 20 |
| Ray Kelly | 82 | 64 | 45 | 23 | | | 0 | | 22 | 18 | 0 | 17 | 19 |
| Denis Sheehan | 80 | 66 | 46 | 20 | | | 0 | | 22 | 24 | 13 | 0 | 14 |
| Peter Brown | 79 | 64 | 47 | 24 | | | 23 | | 13 | 0 | 15 | 15 | 17 |
| Ian Tiernan | 78 | 60 | 42 | 21 | | | 21 | | 0 | 18 | 0 | 18 | 14 |
| Ken Nolan | 77 | 59 | 41 | 17 | | | 18 | | 19 | 16 | 22 | 0 | 18 |
| David Power | 72 | 59 | 40 | 13 | | | 19 | | 19 | 0 | 0 | 0 | 21 |
| Hugh Grainger | 62 | 62 | 47 | 0 | | | 15 | | 24 | 0 | 0 | 23 | 0 |
| Liam Bridgette | 61 | 61 | 42 | 0 | | | 22 | | 19 | 0 | 0 | 20 | 0 |
| Dermot Bradfield | 43 | 43 | 43 | 19 | | | 24 | | 0 | 0 | 0 | 0 | 0 |
| Eamonn Purcell | 37 | 37 | 37 | 17 | | | 20 | | 0 | 0 | 0 | 0 | 0 |
| John Galvin | 29 | 29 | 29 | 14 | | | 0 | | 0 | 0 | 0 | 15 | 0 |
| Nigel Cosgrave | 0 | 0 | 0 | 0 | | | 0 | | 0 | 0 | 0 | 0 | 0 |
| Declan Rickard | 0 | 0 | 0 | 0 | | | 0 | | 0 | 0 | 0 | 0 | 0 |